September 3, 2022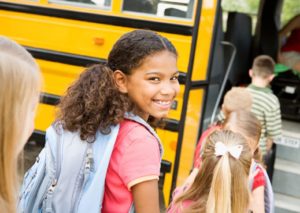 If you're gearing up for a new school year, you've probably got a lot of things on your mind: what supplies you need to buy, what clothes you'll wear, and what classes you're enrolled in. But have you thought about the state of your smile recently? With so much going on, it's easy to let things slide and unintentionally neglect your oral health. But getting back on track is possible! Here are some oral health tips from your dentist in Arvada to help you ace your next dental exam.
Tip #1: Establish & Maintain a Proper Oral Hygiene Routine
If you haven't already, you should establish and stick with a proper oral hygiene routine. Brush your teeth twice a day, floss and use an antibacterial mouthwash. Not only does this routine actively mitigate serious oral health issues but having a set routine is a great way to combat anxiety, reduce stress, and encourage healthy habits. A healthy mouth is also less likely to encounter dental emergencies—meaning that you can remain in the classroom and focused on learning.
Tip #2: Adhere to a Healthy Diet
You should try to stick to a well-balanced diet throughout the school year; remember that everything you eat can influence your oral health! Being in class all day can make it challenging to make sensible choices, and unhealthy snacks might seem appealing. But foods like crackers, cookies, chips, and granola bars, as convenient as they may be, can increase your risk of tooth decay, cavities, and even gum disease. Instead, you should opt for healthier choices like fruits, vegetables, cheeses, yogurt, nuts, and more; your teeth will thank you.
Tip #3: Drink Plenty of Water
Water is the absolute best beverage for your body and greatly benefits your oral health! A hydrated mouth produces plenty of saliva, which is important for washing away excess bacteria that lingers inside your mouth and causes cavities. Skip the sodas and energy drinks and instead consider carrying a refillable water bottle or thermos with you throughout the school day, to ensure that you're drinking plenty of water and staying properly hydrated.
Tip #4: Consider Dental Sealants
Dental sealants are an affordable treatment option that can prevent up to 80% of cavities within the first two years of being placed. That said, opting for dental sealants is one very proactive approach you can take that will ensure your pearly whites are given an added layer of protection in advance of a busy semester.
As you're gearing up for a new school year, don't forget to prepare for your upcoming dental exam! Following these tips will ensure that your teeth pass with flying colors.
About the Author
West Arvada Family Dental is proud to serve patients and families in the Arvada, CO area under the leadership of Dr. Jeramiah Paylor. A Colorado native himself, Dr. Paylor received his dental doctorate at the University of Colorado and is an active member of several professional organizations including the American Dental Association and the Colorado Dental Association. If you have any questions for Dr. Paylor or would like to schedule a visit, don't hesitate to contact him through his practice's website or over the phone: (720) 776-4900.
Comments Off on Tips to Help You Ace Your Next Dental Exam
No Comments
No comments yet.
RSS feed for comments on this post.
Sorry, the comment form is closed at this time.