Dental Bridges – Arvada, CO
Beautifully Bridge Two Teeth
Even missing a single tooth can put a big damper on the quality of your smile. If you're in Arvada, CO and you want to beautifully bridge two teeth that have been separated by a missing tooth, a dental bridge from the team here at West Arvada Family Dental could seriously improve the quality of your smile.
A dental bridge can be a gamechanger if you have a gap in your smile, so give us a call today and we'll talk about how they can help you.
Why Choose West Arvada Family Dental for Dental Bridges?
High-quality Restorations Made of Excellent Materials
Accepts A Variety of Dental Insurance Plans
Dedicated Dental Team Who Will Attend to Your Needs
What is a Dental Bridge?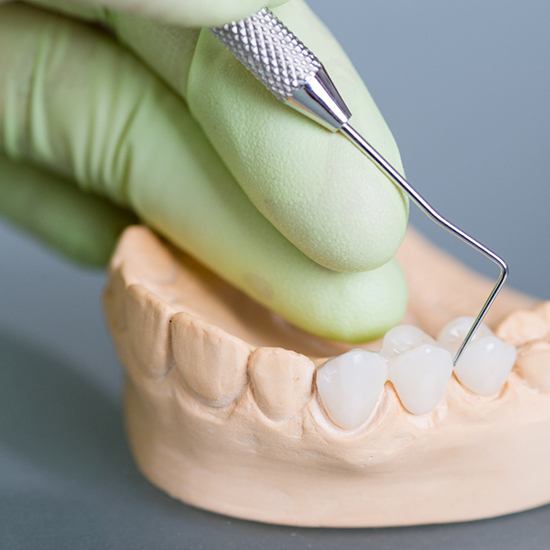 If you've ever seen a dental crown, those small ceramic caps that go over damaged teeth, bridges are similar. Dental bridges are two dental crowns with one or more prosthetic teeth sandwiched in between. This allows you to replace a tooth that has been lost, using the existing natural teeth for support.
Dental bridges can be made of anything that a dental crown can, ranging from metal to ceramic. That said, ceramic is the norm given the fact that it looks like teeth.
Types of Dental Bridges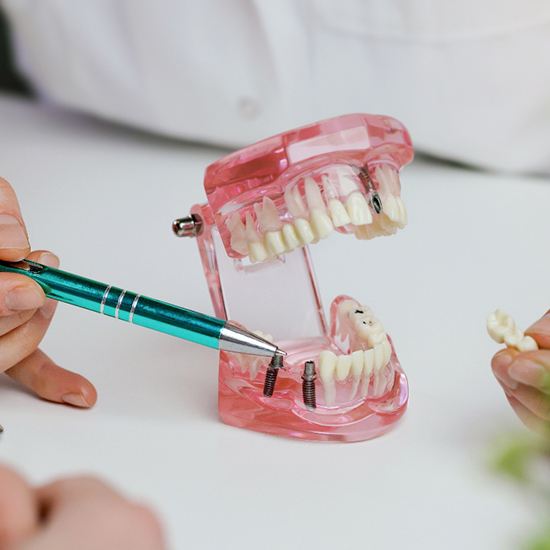 There are two kinds of dental bridges: traditional and implant. Which one is best for you comes down to both your unique needs and your personal preference. We'll talk to you more about which way you should go at a consultation, but until then, here's what you should know about the two.
Traditional Dental Bridges
Traditional dental bridges are the ones described above; they are attached to the natural teeth and use them as support for the prosthetics in between. This makes them quick and easy to apply, while still providing remarkable stability.
Implant Bridges
Implant bridges are a bit different. Instead of attaching the bridge to the teeth, they're instead adhered to metal posts that are surgically implanted into the jaw. This provides them with a little bit more durability than in the case of regular bridges. It also means that you won't have to do anything to your healthy teeth, which is a plus for some people.
The Benefits of Getting a Dental Bridge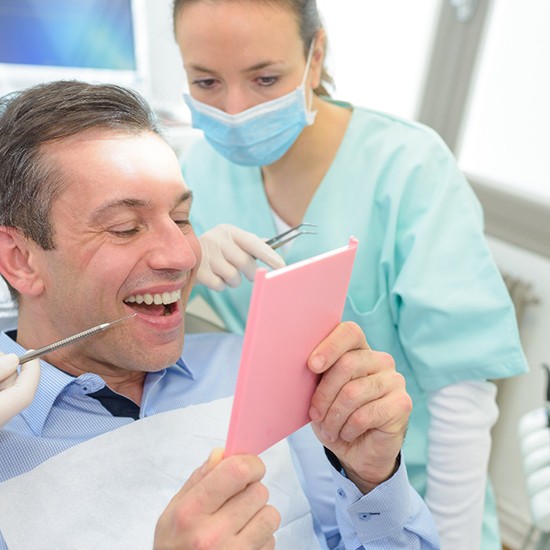 When you're missing a tooth, that can obviously put a damper on your confidence. However, there are also a fair number of serious health problems that could come about if you leave a gap in your smile.
For one, might have problems eating that could negatively impact your overall nutrition. There are also risks that other teeth could rush to fill the gap left by the hole in your smile, leading to misaligned teeth.
Dental bridges could help you with any of these problems, so if you're missing a tooth, give us a call today!