Veneers – Arvada, CO
Erase Multiple Dental Flaws in One Single Treatment
Are you unhappy with your smile? If you're struggling with a single imperfection, like stubborn stains or a small chip, you can easily enhance your smile. But what if you are unhappy with multiple imperfections? Thanks to veneers in Arvada, you can erase multiple dental flaws in one single treatment! In fact, our talented cosmetic dentist, Dr. Paylor, can use this popular treatment to bring your dream smile to life. Keep reading to learn more, or get in touch with our team today to schedule your initial consultation.
Why Choose West Arvada Family Dental for Veneers?
Passionate, Knowledgeable Cosmetic Dentist
Transform Your Smile in as Little as 2 Visits
Morning, Afternoon & Lunchtime Appointments
What Are Veneers?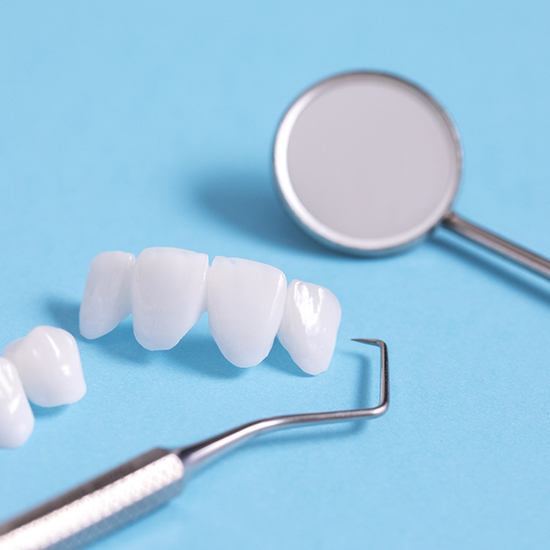 Year after year, veneers are one of the most sought-after cosmetic dental services, but what are they exactly? In short, they are thin shells of porcelain. Since they are available in a variety of lifelike shades and are extremely customizable, they can conceal a number of imperfections when attached to the front-facing surfaces of your teeth.
The Process of Getting Veneers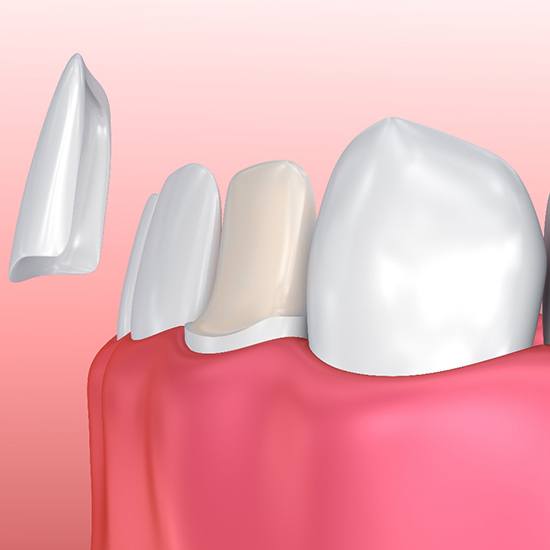 Getting veneers starts with an initial consultation with our cosmetic dentist. After confirming you're a candidate, they will prep your teeth and take impressions of your mouth. From there, all of the unique specifications, like the size, shape, and shade, of your veneers will be sent to the lab artisans. In the meantime, we will provide you with a temporary set so you can give your new smile a "test drive." Once your final veneers are ready, you'll return to our office to have them placed.
The Benefits of Veneers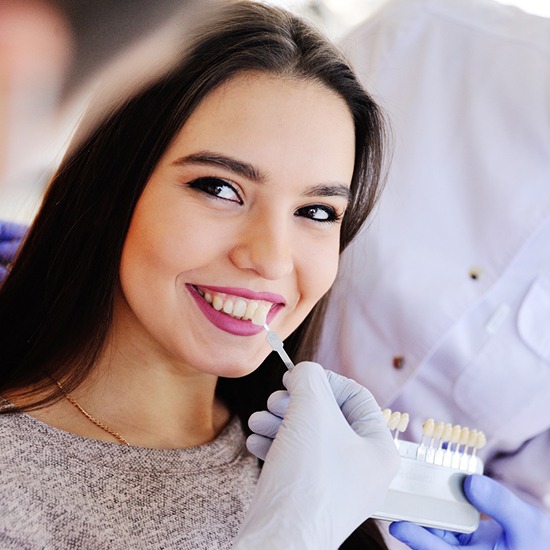 With so many cosmetic dental services to choose from, you may be wondering why veneers are so popular time and time again. In addition to delivering gorgeous results, this smile-enhancing treatment comes with numerous benefits, including:
Versatility – Veneers are custom-made just for you, delivering results that are as natural or dramatic as you'd like.
Quick turnaround – Unlike other services, the entire veneers process can be completed in as little as two appointments.
Longevity – With proper maintenance, veneers can last for 10+ years.
Effectiveness – Veneers can conceal a variety of dental flaws – from slight misalignment to severe discoloration – simultaneously.
Stain-resistant – Although veneers look like enamel, they are stain-resistant, ensuring your beautiful results will last.
Would you like to learn more about veneers in Arvada? Now's the time to get in touch with our team. We look forward to making your dream smile a reality!
Understanding the Cost of Veneers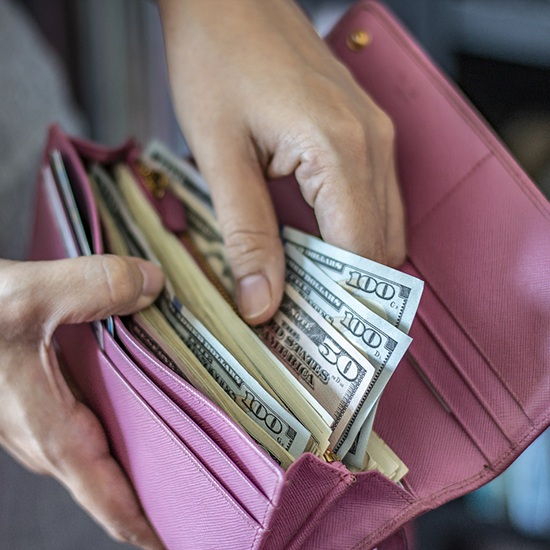 Veneers are a great option for patients who are looking for a more dramatic smile makeover. However, they aren't necessarily the best option for every patient. Before you can determine whether or not they are the best cosmetic solution for you, it's important that you consider their cost. By choosing a trusted dentist and investing in high-quality veneers, you can work towards the smile of your dreams, but they aren't your only option. Read on so you can make an informed decision about the future of your pearly whites.
Cost VS Cosmetic Dentistry: What's Right for Me?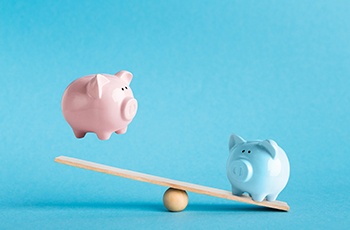 Often times, patients believe that veneers are hands down the perfect option right away, but it's important that you take a look at other options as well to see how they will affect your smile. They all have different price points and can help to achieve a variety of different goals. Here are just a few of the more common options that are available:
Braces – Braces can straighten teeth in dramatic ways but are very expensive, usually costing several thousands of dollars. While they may be the best option if you are dealing with misalignment issues, they're unable to address the color and shape of your teeth.
Teeth Whitening –Professional teeth whitening is a quick, effective solution for surface discoloration. Plus, it's a lot more affordable than many other cosmetic options. Just remember that it doesn't address any cosmetic imperfections other than staining. Results can last anywhere from a couple months to a few years depending on how well you care for them.
Direct Bonding – This minimally invasive procedure can be completed in a single visit, and it's one of the most affordable cosmetic treatments out there. It is great for correcting minor flaws, like small chips and stains. Bonding can last anywhere from 3 to 10 years or even longer when cared for properly.
Veneers – Veneers may be not the cheapest cosmetic service out there, but it is the easiest way to transform numerous aspects of your smile at the same time. This includes the shape, color, and minor crookedness. The whole process can be completed in as little as two appointments, and results last up to 15 years or longer with optimal maintenance.
How to Make Veneers Affordable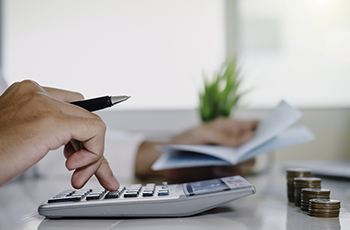 Since veneers are considered an elective procedure, they aren't generally covered by dental insurance. However, this doesn't necessarily mean you're completely out of luck. With our In-House Membership Plan, you can save 25% on most services, including cosmetic procedures. Talk to one of our friendly team members to learn more!
To learn exactly how much you can expect to pay for veneers, schedule a consultation with us. This way, we can discuss your unique case and help you achieve the smile you've always dreamed of!
Veneer FAQs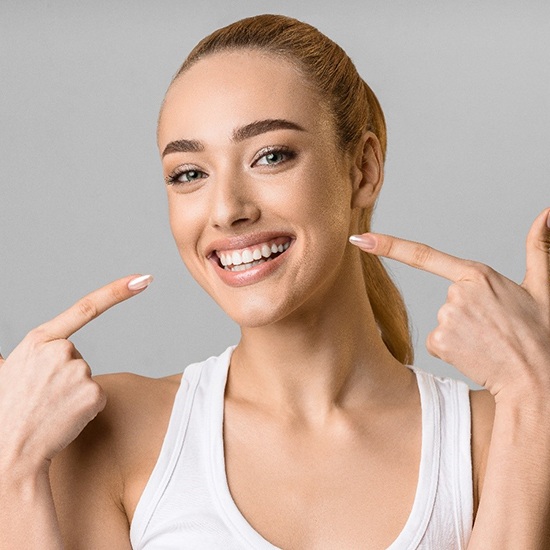 Do you have multiple dental imperfections? If so, you might be thinking about getting veneers in Arvada. They're an excellent solution for patients wanting to achieve their dream look! Since this cosmetic procedure is more invasive than other options, it's completely normal to have a few concerns about it before committing to treatment. Our team at West Arvada Family Dental wants you to feel confident in your decision to get veneers, which is why we've decided to answer some frequently asked questions about them. If you'd prefer to speak directly with Dr. Paylor, feel free to call our office and make an appointment today!
Are Veneers Permanent?
Since veneers will need replacement eventually, they're not considered a permanent cosmetic solution. However, the process of getting them is considered to be irreversible. Dr. Paylor will need to remove an ultra-thin layer of enamel to ensure the veneers fit on the teeth properly. Once enamel is removed, it'll never grow back. Because of that, prepared teeth will always need to be covered by crowns or veneers.
Is There Anything I Can't Eat with Veneers?
After your teeth are prepared, you'll wear temporary veneers while your permanent ones are made. During this time, you'll need to avoid hard foods (i.e., ice, candy, raw fruits and veggies), sticky foods (i.e., caramel, toffee, gum), and dark-colored drinks (i.e., soda, red wine, tea). Not only can they damage your restorations, but stain them as well. Even though you can eat almost anything once your permanent veneers are in place, you'll want to continue to exercise caution with certain foods. Also, you'll need to drink alcohol sparingly as it can weaken the bonding material holding your veneers in place.
Do Veneers Give You a Lisp?
When you first get veneers in Arvada, you may have difficulty pronouncing certain words or making specific sounds. That happens because the tongue is not used to speaking with the restorations in place. Even though it's a minute difference in thickness, it still affects how the tongue moves. Luckily, any lisp you develop is temporary and should go away as soon as you adjust to your new smile. You can speed up the adjustment process by reading aloud, practicing the pronunciation of certain sounds, and having more conversations with loved ones.
Can Veneers Be Used for Bite Corrections?
It depends! Veneers are only recommended for bite issues that affect your appearance but don't cause significant oral health issues. For instance, if you have a mild open bite, veneers can make your teeth look longer and wider so that they appear to line up correctly. They can also be used to hide small gaps between the teeth. However, since veneers can't change the actual position of the teeth or jaw, they won't be as effective for more severe problems.