Implant Dentures – Arvada, CO
Keep Your Denture Stable, Your Smile Beautiful
When you've had a denture for a long time, you start to notice the setbacks that often come with it. Once they get old, for example, they tend to slip and shift out of place more easily, making basic tasks like eating and even speaking far more difficult. That's where dental implants can make all the difference. By choosing implant dentures in Arvada to rebuild your smile, you can expect a longer-lasting and more natural-feeling tooth replacement overall. Give West Arvada Family Dental a call today to schedule a consultation with Dr. Paylor!
What are Implant Dentures?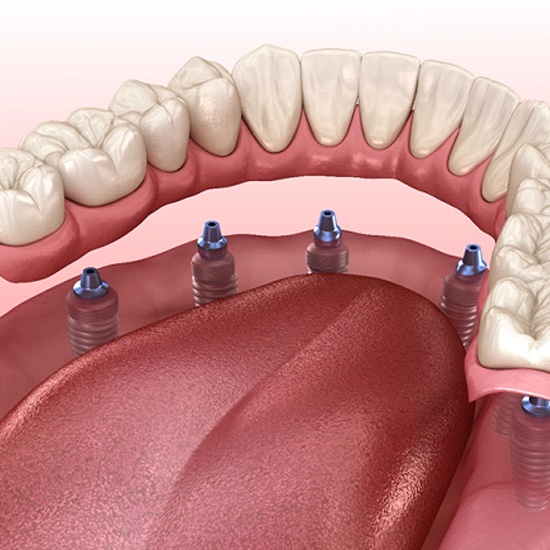 An implant denture looks very similar to a traditional denture but with one key difference: fasteners designed to attach directly to a series of dental implants placed throughout the mouth. Typically between four and six implants are placed throughout the jaw ahead of time to give the denture a proper foundation. However, there are different types of implants you can receive depending on your preferences.
Fixed/Permanent Implant Dentures
A fixed denture is designed to stay in place at all times and should only be removed by a dentist. This option generally requires more implants, and therefore more bone tissue to place.
Removable Implant Dentures
Using a series of either bar-retained (clips) or ball-retained (ball sockets) to hold your restoration in place, removable implant dentures can be easily taken out for cleaning and require fewer dental implants on average.
The Implant Denture Procedure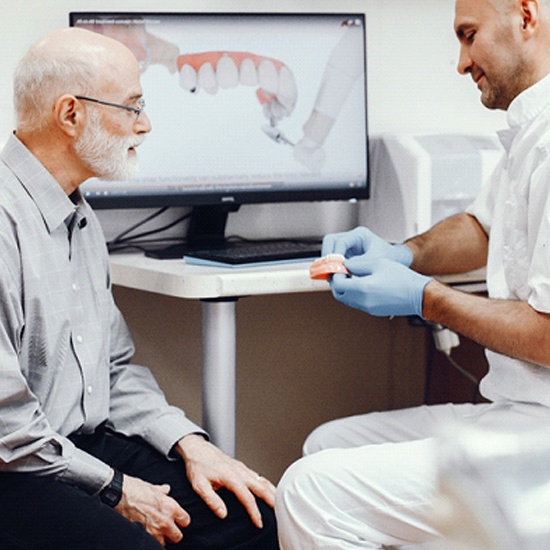 Implant dentures require multiple appointments to complete, just like single dental implants. During the initial consultation, Dr. Paylor completes a detailed oral exam to confirm if you are eligible to receive dental implants as well as make sure no other treatments are needed beforehand (i.e. tooth extractions). After this planning stage, he'll schedule you for placement surgery, which occurs at the same office.
After the posts are inside the jaw, a protective cap is placed on top of them and they are given time to heal over the next several months. The implants will slowly fuse with your jawbone, creating a sturdy foundation strong enough to hold your future denture. After the denture is fabricated, you'll come back for one final appointment to have it placed and adjusted as needed.
Am I a Candidate for Implant Dentures?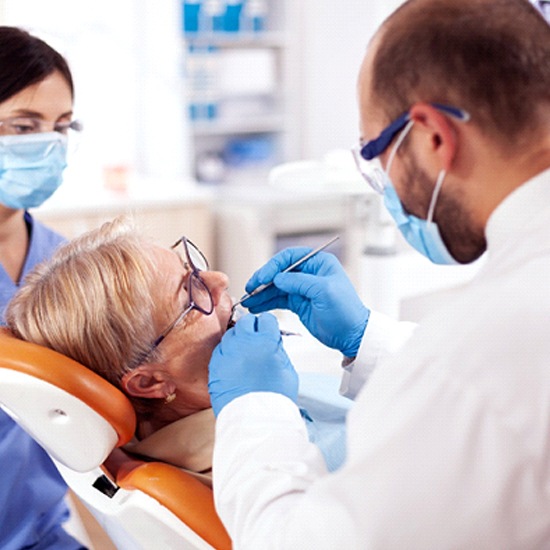 Ideal candidates for implant dentures have:
Relatively good oral and overall health
Sufficient bone tissue thick enough to receive dental implants
Approval from their general practitioner to undergo minor surgery
Strong commitment to completing a month-long treatment
Dedicated at-home oral hygiene regimen
Benefits of Combining Dentures & Dental Implants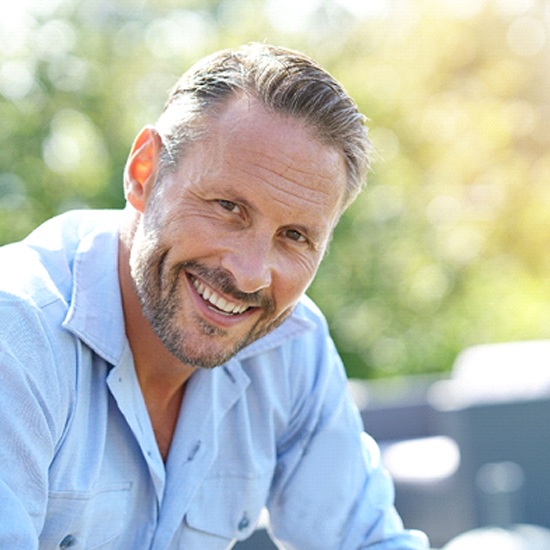 There are several benefits to look forward to after receiving implant dentures, including the following:
Improved jawbone preservation prevents facial collapse, allowing you to maintain your original appearance to the fullest
Boosted confidence in your day-to-day
Lower risks for common systemic health problems that may develop due to tooth loss
The ability to eat your favorite foods without worry of your denture slipping or shifting out of place due to improved biting force
A smile that looks as natural as it feels