December 14, 2022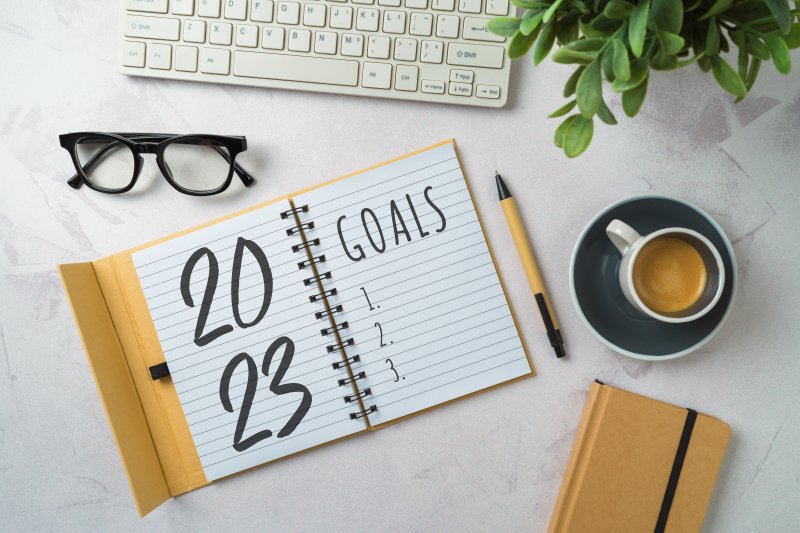 Like most people, you likely have a list of New Year's resolutions that you plan on working through this year. However, you may still be brainstorming ways to increase your health and wealth in 2023. By choosing to make your resolutions about your oral health, you can easily create a win-win situation for your smile and wallet! In this blog post, you'll learn a few ways to maintain optimal oral health all year long.
Boost Your Oral Hygiene
Having a solid at-home oral hygiene routine is essential for a healthy smile. By taking proper care of your teeth and gums, you can ensure they look and feel their absolute best. Plus, it's easier than you think to do just that! All you have to do is implement a few simple habits into your everyday routine to keep your pearly whites in excellent condition.
Brushing your teeth twice a day for two minutes each time, flossing daily, and rinsing every day with an ADA-approved mouthwash are just a few practices that should be a part of your routine. Don't forget to keep up with your preventive care throughout the year as well! In doing so, you can maintain a problem-free grin in 2023.
Make Better Dietary Choices
Believe it or not, diet has a significant impact on oral health. If you're not careful, the foods you eat can contribute to problems like cavities, decay, and gum disease. That's why you need to be mindful of your dietary choices! Fortunately, there are many steps you can take to follow a healthier diet.
Some tips include limiting your intake of sugary and acidic foods, reducing snacking between meals, rinsing with water after eating, and consuming plenty of nutrient-rich foods (i.e., fruits, vegetables, whole grains, lean proteins, dairy products).
Avoid Dry Mouth
Saliva is crucial to maintaining the health of your teeth, gums, and mouth. Not only does it provide your enamel with much-needed minerals, but it helps neutralize pH levels (acidity) and wash away food particles. Having a dry mouth can contribute to multiple oral health problems, such as decay and gum disease. To avoid these issues, you can keep your saliva flowing by chewing sugarless gum, consuming milk or other dairy products, limiting your alcohol consumption, and drinking plenty of water.
Kick Bad Habits to the Curb
Everyone knows that smoking and using tobacco are detrimental to your health. However, those poor habits are just as harmful to your smile. Tobacco can stain your teeth and increase your risk of multiple dental problems, such as gum disease. You can make 2023 the year you quit with the help of a qualified dental professional! They'll provide you with the resources, support, and guidance you need to quit these bad habits for good.
You should make this year the one where you work on improving your oral health. By using these ideas for your New Year's resolutions, you can ensure your smile remains in optimal condition for months to come.
About the Practice
At West Arvada Family Dental, we'll make sure your smile stays beautiful and healthy for life. Our team will always ensure your comfort and satisfaction comes first. You'll leave every appointment with a huge grin on your face! For more ways to maintain optimal oral health this year, visit our website or call (720) 776-4900.
Comments Off on New Year, New You: Resolutions for a Healthier Smile
No Comments
No comments yet.
RSS feed for comments on this post.
Sorry, the comment form is closed at this time.