March 27, 2023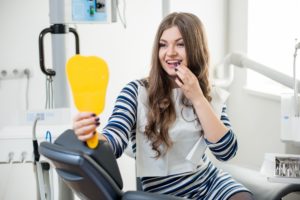 The size of your teeth can affect the appearance of your smile. Teeth come in a variety of shapes and sizes, which are partially influenced by your genetics. Some people have smaller teeth naturally, while others have excess gum tissue covering their surfaces. No matter the reason, your cosmetic dentist has 3 effective solutions to treat your gummy smile.
1. Porcelain Veneers
A veneer is a thin shell that's applied to the front surface of a tooth to improve its color, size, and shape. Applying them to the teeth visible when smiling allows your dentist to correct many issues at once, like chips, stains, gaps, and small teeth.
The process of getting veneers is minimally invasive and produces results that can last for a decade or longer with the right aftercare, like brushing and flossing. You'll enjoy a big, bright smile you'll be proud of.
2. Cosmetic Dental Bonding
A composite resin can fix a gummy smile by adding to the structure of your teeth. It is shaded to match the color of your enamel and molded into the ideal shape before being hardened using a special dental light. The material will blend in with your tooth, so no one will know it is not part of your natural structure.
Depending on your aftercare routine, bonding can last for 5 to 10 years before needing to be replaced. You can enjoy noticeable results in a single appointment without needing an invasive procedure.
3. Metal-Free Dental Crowns
A dental crown is a customized cap that's bonded over the entire surface of a tooth above the gum line. Modern restorations are made of all-ceramic material to look natural. Although crowns are often used in restorative dentistry, they also offer cosmetic benefits, like treating an abnormally shaped tooth. A crown can also improve the appearance of a tooth damaged by decay or trauma.
Although crowns are effective, you would not want to apply them to several teeth, or your smile can look bulky and unnatural. Instead, a crown is recommended to treat a specific tooth that's smaller than average teeth.
Your cosmetic dentist will examine your mouth and learn more about your concerns to determine which procedure is right for you. They will explain all of your options to help you make the best choice for your smile.
You cannot change your genetics, but you do not have to live with a gummy smile. Your dentist can turn the smile of your dreams into reality using the latest advancements in dentistry.
About Dr. Jeremiah Paylor
Dr. Paylor earned his dental degree at the University of Colorado and has regularly continued his education in various specialties, including cosmetic dentistry, dental implants, and prosthodontics. He combines the art and science of dentistry to help each patient achieve their best smile. If you're ready to fix your small teeth, request an appointment through our website or call (720) 706-6883.
Comments Off on How Can I Fix Small Teeth?
No Comments
No comments yet.
RSS feed for comments on this post.
Sorry, the comment form is closed at this time.